2022 Registration
The 2022 Program Committee is pleased to offer Omni-Access to the 2022 Annual Institute.
Omni-Access will meet attendees where they are, whether that is Old Town Alexandria, VA, or their living room. General Sessions, Keynotes, and Plenaries will be live-streamed from Alexandria, VA, and then available on-demand beginning June 15th. Concurrent podium presentations and ePosters will be available on-demand for all audiences beginning on June 10.
All attendees, regardless of attendance method, will receive access to on-demand content from June 10 through July 15, 2022.
Registration will require an ACHNE database login. If you are not currently an ACHNE member, you will create a new login and then complete your registration. Please remember that all Annual Institute presenters are required to be current ACHNE members. Contact Roxy West, CAE, at info@ACHNE.org with any questions or concerns.
ACHNE Member
Non-Member
Omni-Access Pass
$425
$525
Student & Retired
Omni-Access Pass
$225
$325
Runner Registration is OPEN!
Your choice, your exercise! Take a run around the block, a walk through the woods, or a jog on a treadmill, and then report your time between June 1 - 30. Find us on Facebook and join the conversation for encouragement from your fellow ACHNE members and runners.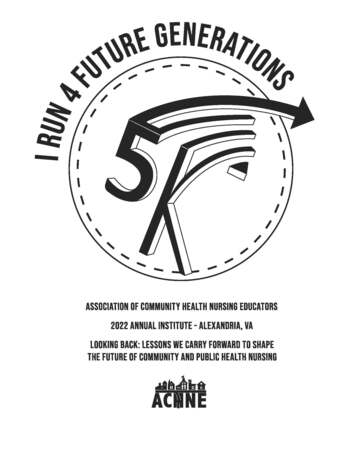 Runners that register by May 27th will receive an exclusive "I Run 4 Future Generations" t-shirt.
New for 2022: Attending the 2022 Annual Insitute? You will be able to pick up your exclusive runner's t-shirt at registration. Take your participation to the next level and join ACHNE President Lori Edwards and ACHNE President-Elect Krita Jones on a brisk walk (or run) through historic Alexandria Old Town Friday morning and finish your 5k before most people have their second cup of coffee.
Unlike a traditional in-person 5K Run, the I Run 4 Future Generations virtual 5k uses digital technology allowing participation on your own, with a friend, a group of fellow faculty members and students, or with your whole family. Participating wherever you are: day or night; rain or shine; inside or outside all while raising funds for the new ACHNE Student Scholarship program.
Although Annual Institute is not required to participate, we would love to see you at the AI!