Schedule of Events
To Be Announced Early 2022
Call for ACHNE 2022 Annual Institute Abstracts
June 9-11, 2022, in Alexandria, VA, and Virtually.
We invite you to present your work, insights, and research on diverse topics that address the following conference objectives and supports ACHNE's Core Values:
Conference Objectives
Identify successes challenges and missed opportunities in the history of community/public health nursing, such as insights from the COVID-19 pandemic in the US and globally.
Describe historically informed, innovative strategies to enhance community/public health nursing education, research/scholarship, and practice.
Discuss implications and influence of historical community/public health nursing practice on current and emerging policies and programs.
Identify past, present, and future social justice opportunities to foster healthy, equitable communities.
Explore past, present, and future strategies for leadership development of community/public health/ population health
ACHNE's Core Values
Collaborative partnerships
Evidence-based practice
Excellence in education
Inclusiveness
Leadership development
Professional development
Research and scholarship
If accepted, we strongly encourage you to make every effort to attend the 2022 Annual Institute in-person. However, we recognize that we are in uncertain times. To assist with this, we are incorporating a virtual component that will allow for virtual attendees and digital presentations in some capacity.
Deadline: October 23, 2021, 11:59 PM ET
The theme of the ACHNE 2021 Annual Institute is:
Looking Back: Lessons We Carry Forward to Shape the Future of Community and Public Health Nursing
Call for Abstracts which will be accepted in one of two categories:
Podium presentations - 15 minutes, single or multiple speakers, single topic. A presenting author will be expected to register and attend the Annual Institute. Additionally, authors will be expected to prerecord their presentation and upload it prior to the AI meeting to facilitate on-demand viewing and provide a backup in the event authors are unable to travel.
ePosters - Poster presentations will be created and accessed using Learning Toolbox again for 2022. Directions for creating e-posters will be sent to authors whose abstracts are accepted for poster presentations. A presenting author will be expected to register and attend the Annual Institute.
All abstracts are limited to 500 words. Submissions must list up to three (3) measurable, educational objectives for your presentation, using only one (1) verb per objective. Authors will also need to identify which conference objective(s) the abstract addresses and classify the focus of the abstract as Education, Practice, Research, Health Policy, or Other. Authors must also provide a list of references within a five-year time limit. Objectives and References are not included in the abstract word count. The lead author will enter the names, degrees, credentials, and institutional affiliations for each additional author. All presenters are required to complete a Conflict of Interest form. This information is required by our CE provider and must be provided in order to submit an abstract. This will be emailed separately to each author listed in the abstract.
Abstracts undergo a blinded, peer-review process. Abstracts will be reviewed and scored [0=not apparent, 1-weak, 2=moderate, 3-strong] on each of the following criteria:
Relevance to conference theme and objectives
Significance to community health nursing education and practice (Of interest to our audience? Implications stated or suggested?)
Quality of description of subject matter (Well written and organized? Style and appearance adequate?)
Clarity and cohesiveness of abstract (Rationale sound? Conclusions logical?)
Creativity of approach / Originality of subject (Novelty of concept or application?)
Relevance to the conference theme (Developing and Supporting Leadership)
The deadline for these submissions is October 23, 2021.
All proposals for the AI must be received electronically no later than 11:59 PM ET on October 23rd, 2021. The ACHNE Program Committee will notify applicants regarding the status of their proposals by January 1, 2022. If accepted for presentation, the presenting author(s) agree to present their proposal at the ACHNE Annual Institute on June 9-11, 2022. Presenting authors must be members of ACHNE and registered for the 2022 Annual Meeting at the time of presentation.
Commonly Asked Questions:
Can I submit more than one abstract?
Yes, you can submit more than one abstract.

What is the ePoster component?
ACHNE is using the Learning Toolbox ePosters this year. Posters are no longer one dimensional, limited to information that just fits on a standard printed poster.
You will have the ability to incorporate any of the following items in your ePoster: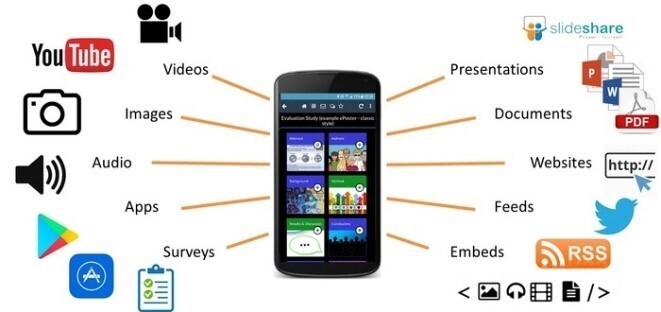 What happens if my abstract is accepted but I am unable to attend the AI in person?
We encourage our accepted authors to make every effort to attend the Annual Institute in Virginia. However, we accept that travel is uncertain currently and are working to create a robust annual institute that seamlessly integrates virtual and in-person components to create a fulfilling hybrid experience for all attendees, whether they are in the general session room or their living room.
No matter what, all Podium presentations will be pre-recorded and uploaded to the Learning Toolbox Platform, along with any supporting documentation the authors wish to provide.
ePoster presenters will also utilize the Learning Toolbox platform to create their digital posters.
It has not been decided yet if virtual Symposia presentations will be pre-recorded or live.
In the event that virtual presentations are pre-recorded, you will still be expected to be online during your presentation in order to answer questions in real-time. There may also be live Q&A sessions scheduled for virtual attendees that you will be expected to attend.